OUR IMPACT


PROJECTS WE SUPPORT



The Stars Foundation's Donors Support
Mayfield, Kentucky Victims of Tornadoes
On December 14. The Stars Foundation had a first-hand look at the devastation left behind by one of the most horrific tragedies caused by a natural disaster in America. The two-mile-wide tornado traveled 200 miles to reach Mayfield, Kentucky, at approximately 9:30 Pm on December 10, 2021. Damage to life caused by the vast and powerful tornado that ripped through Mayfield, Kentucky, and Middle Tennessee was both epic and profound. Our ministry partners in Mayfield were the hub of natural disaster relief as Samaritan's Purse and two other nonprofits set up camp there as a central location for supplies and volunteers to gather.
Our team was able to impact the delivery of assistance in numerous ways. Supplies were abundant and overwhelming the area, so we were able to take the recommendation of the local pastors and aid coordinators and provide GIFT CARDS for over 60 families! The Gift Cards, as suggested by the aid workers, consisted of Walmart Gift cards. This was the recommendation so that any necessary item they needed could be purchased by the victims. We are forever grateful to one of our National Advisory Members, Jay Paul Deratany and his law firm, Deratany and Kosner, Chicago, Illinois, for coming to the aid of victims in Mayfield. We plan to continue to provide Gift Cards and ask that donors click on Mayfield, Kentucky Tornado Relief to donate in upcoming months.
A Benefit Concert is being planned! We will keep you posted!
White Feather Foundation- founded by Cynthia and Julian Lennon
| | | | |
| --- | --- | --- | --- |
| | | | |
The children of the Shiyala Community were walking for approximately two hours to their nearest school prior to Phase I build of Shiyala Community Primary School. They solved this issue and opened a school in 2017, which currently educates 430 children. This next build will increase capacity to serve 560 children. We at The Stars Foundation are seeking funding from our events and promotions through 2023 to help send goods to help the children and community in the area. We need your help!

By working collaboratively with Shiyala Community Healthcare Post, Mothers of Africa will monitor and record the ongoing progression in terms of both education and health for each child that enters their school.

This project with Mothers of Africa and the White Feather Foundation is one of the selected grant recipients of the World Orphans Day Fund to support such projects benefiting orphans.
We connect People and Brands to causes that impact the lives of oppressed children around the world.
| | | |
| --- | --- | --- |
| Picture going days without food or not having a roof over your head to keep you warm and dry. At The Stars Foundation, we assist our partners in providing food, medicines, shelter, and clean water to help enrich the lives of displaced, orphaned, or foster children. Join us in being the voice and the Helping Hand to empower these children for a better life. | | Give hope to orphans, displaced children, foster children, and children of our fallen heroes when you join our purpose-driven cause-related efforts. From donating dollars to participating in our Flame of Peace Movement to joining our celebrity-related projects as sponsors, any help is appreciated! You are our Heroes! |
UN WORLD ORPHANS DAY PROMOTION COMMITTEE & THE STARS FOUNDATION Co-host United Nation Ambassadors and Dignitaries
The Stars Foundation joins the Japan-based UN World Orphans Day Promotion Committee in its advocacy work, calling for an UN-observed World Orphans Day.
Serving Vulnerable Children and Youth of the World
Special Thanks to our wonderful volunteers who give of their generous hearts and time commitments to help in so many ways! You are the HEROES that make all this possible to help orphans around the world!
Special thanks to graphic artist Krista Kemmer and photography by Silent Images, and the team of camera operators and directors from the Nashville Film Institute and NRB TV, David Johnson of Silent Images and Jubaer Hussain, Graphic Artist, Bangladesh, who have assisted throughout several years to help get our message out.
About Us
Take a simple step today that could change someone's life tomorrow by supporting the humanitarian aid efforts of The Stars Foundation in Nashville, Tennessee. Our Foundation is an entertainment industry-related 501(c)(3) non-profit organization that is focused on advocacy for children's rights around the world. We support other causes, and we specialize in raising money to support orphans and deprived children worldwide, particularly those who were left behind due to the AIDS and Ebola epidemics.
Mission Statement
The Stars Foundation is a United States-based entertainment industry non-profit 501(c) 3 organization. We serve as passionate advocates for the underprivileged children and youth of the world. We advocate for global peace, goodwill, and humanitarian rights by utilizing television and multi-media platforms enhanced by celebrity supporters. We minister and serve our veterans, troops, and the families of our fallen heroes. We contribute to the quality of life of Americans as well as the victims of AIDS, natural disasters, and poverty worldwide. We are committed to serving the physical and spiritual needs of people in impoverished communities around the world.
Executive Produced by Shaquille O'Neal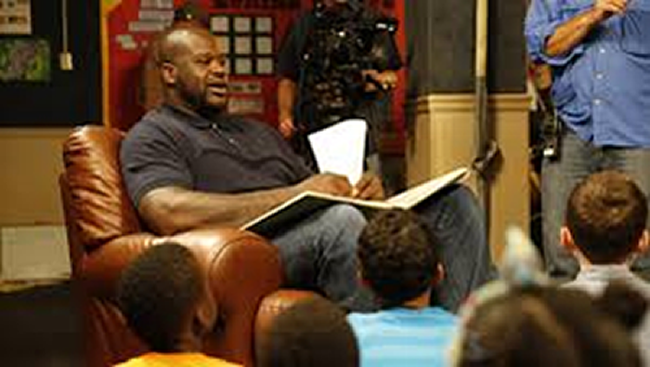 The Stars Foundation is delighted to bring country music stars and celebrity supporters of The Stars Foundation to help promote the needs of the foster children here in America.
Jay Paul Deratany, a writer of the screenplay for Foster Boy and the lawyer that tried the case in court on behalf of the foster care child, invited The Stars Foundation to help in ways we can to bring about a stronger message to the public here in the United States as well as the world, for the plight foster children. The Stars Foundation is gearing up for a nationwide radio simulcast in late fall and a national retailer campaign for World Orphans Day, which will be opportunities for additional promotion of the movie. The movie just secured distribution with Gravitas. Shaquille O'Neal is a strong advocate for foster children and is the Executive Producer of the movie . Click Here for the Press Kit
Shaquille O'Neal serves as an Executive Producer, and we have enclosed his explanation of the movie here.
Explanation from Shaquille O'Neal here.
All the details are still being discussed and reviewed on timing due to the coronavirus, but more information will be made available soon. We are very excited about spreading the word about this great movie and will be able to showcase updates of our Country Music Cares Campaign's support of this incredible, thought-provoking movie in the near future.
Through the incredible warrior for justice efforts of Jay Paul Deratany, these homeless and abused children will have a voice. We at The Stars Foundation will advocate in partnership with the movie team to create a better future for foster children in the world.